Greetings to global Bee Pioneers!
It is great to see our Bee HIVE growing with everyone's efforts as you are all building your own strong teams in the HIVE too. Bee Network DAO would love to see new friends keep joining us. After all, the more Bees the merrier, right?

This week, we're kicking off our 4-week-long Bee Referral Contest, so it's a good time to invite new Bees and grow your team fast! Besides, we're giving away some great gifts, ETH, USDT, and most of all an iPhone14 for the final prize! Don't miss the chance to get a brand new cellphone and earn some pocket money.

Let's start with getting familiar with the rules.

🕑 When is the contest?
Oct 25 to Nov 20 (EST)
🐝 Where is the contest?
Bee Network App > Square > click the Contest icon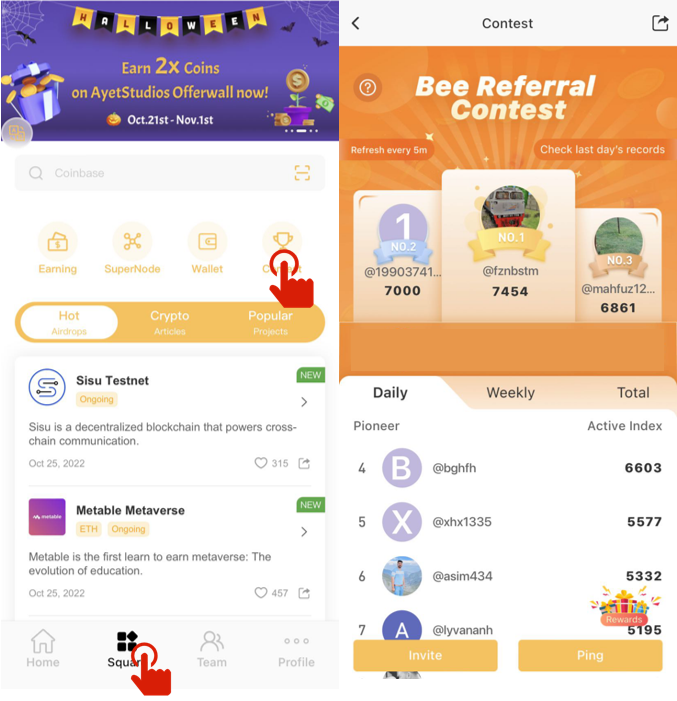 🚀 How to join?
Simply invite new friends to join your team and keep them active.
🗝 How to win?
Bee Referral Contest values highly the number of your new teammates, so inviting more and keeping the team active will give you a higher chance to win.
Top 10 of the Daily Ranking, top 10 of the Weekly Ranking and the top 3 of the Final Ranking will be rewarded gifts. We trust you can do it!
💰 What are the prizes?
USDT, ETH, BNB, NFT and iPhone14. Be the final champion and take your iPhone14 home.


As the world's largest Web3 interactive platform, Bee Network aims at helping more people enter the Web3 world in an easier way. You're not alone in this Web3 world with every Bees in your team.❤
Join the Bee Referral Contest and let's start the game!


Bee Network DAO
2022-10-25