Hello, Beelievers!
The Consolation Prize rankings for May in the Event Center have been announced. We noticed that there were several unlucky Bees who completed multiple tasks but did not win even once in any Luckdraw. In recognition of their efforts, the Core team would like to extend their greetings and appreciation to the top 5 participants who completed the most tasks. Each of them will receive a total reward of 100 USDT. Congratulations to them!

The 5 usernames listed in the rankings are kindly requested to contact Bee Network through the Telegram administrators to claim their well-deserved reward of 20 USDT, which will be credited to their wallets.
@neo2pak
@maximus2104
@tempo2020
@s3od_r
@ezzatazzam2468

For those Beelievers who did not make it to the rankings in May, please continue your participation. Don't worry, next month it could be you winning the big prize! Participation ultimately leads to rewards.

The Event Center, launched as a significant update earlier this year, has already distributed over 1.8 million Bee Coins (about 9,000 USDT) and hundreds of NFTs. Many Beelievers have earned their first money through the Event Center, to explore the world of Web 3.0. Bee Network will make sure all Beelievers who participate in Event Center can get their rewards in the near future.

Bee Network welcomes more Beelievers to join and earn rewards in the Event Center (accessible through "Profile - Event Center" in-app). Let's continue this incredible journey together, exploring more exciting events.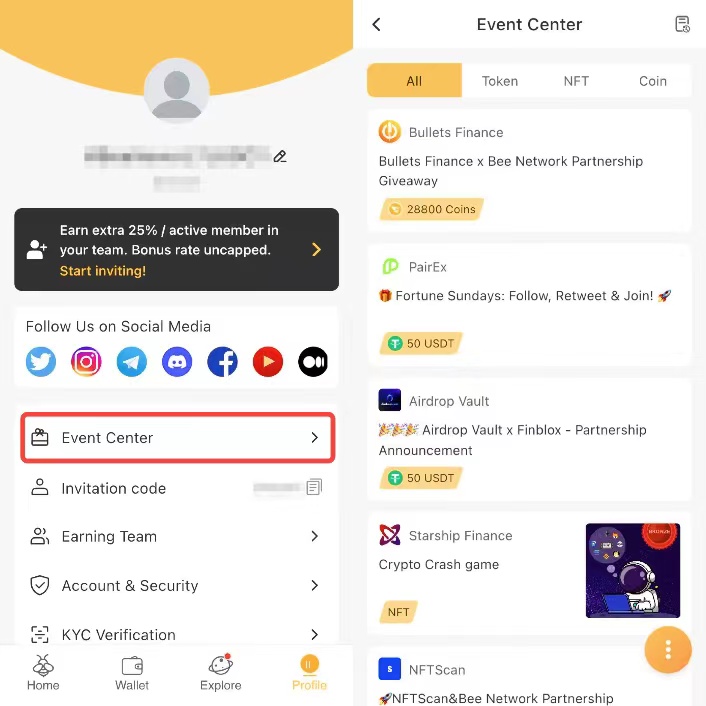 2023/06/16
Bee Network DAO